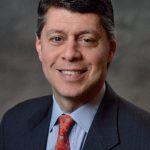 Paul Schatz, President, Heritage Capital
9-11, Queen E, Greenback & What August Portends
Before I dive into the matters at hand, yesterday was 9-11. Every year, either live or DVR, I watch the names being read of those lost and listen for my old friends' names. It's a solemn reminder to Never Forget and as a firm continue to support top notch 9-11 charities like Tunnel to Towers. As we have in the past, we will donate 100% of the profits for the day to these causes on behalf of our clients.
35 years ago I lived in London for 6 months as part of a study aboard program where I worked in the House of Commons Monday through Thursday and took a class at the London School of Economics on Friday morning. It has been one of the highlights of my life, especially getting to occasionally bump into Margaret Thatcher when she was in the House for her twice weekly Prime Minister's question time. Truth be told, early on I figured out when she would arrive and where she would be on her way to the floor. I just happened to always need to be in that hallway for a quick glimpse or casual "Hello".
35 years ago, my local friends would speculate on "what if". What would happen if the Queen passed? What if Charles predeceased her? What would happen in the UK? This was all very foreign to this foreigner. 35 years later, the beloved Queen will be laid to rest. And King Charles III will led the House of Windsor. The whole constitutional monarchy is still pretty cool to me.
The stock market was solidly higher on Friday with very powerful internals. The supremely bearish sentiment has started to come off with some folks getting a little excited about the rally off the recent lows. That is normal, expected and okay. Right now, all I really want to say is that buying weakness and selling strength may not be so bad over the next 4-6 weeks where the biggest risk lies.
The most important things to watch aren't even stock market related. Below is a chart f the U.S. dollar. While the dollar often acts as a safe haven in times of crisis, it is rallying for other reasons now, making foreign goods cheaper and exports more costly in Europe. In short, if the dollar has peaked or is peaking and begins to decline, that would be a net positive for equities in general, commodities and European stocks.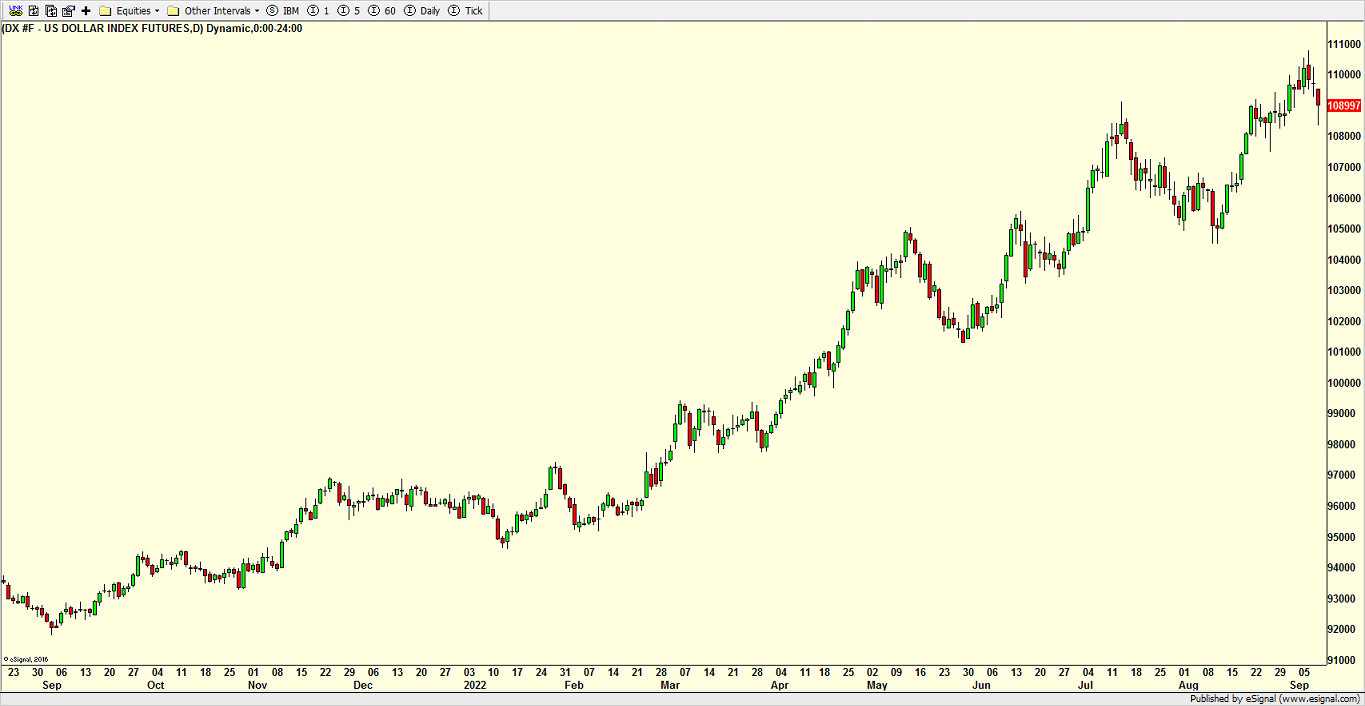 Last week, I published a bunch of stats in September is a Cruel Month. Today, I want to share some more regarding how the stock market behaves when it is down 10%+ through August 31st. I bring this up because it runs counter to the myriad of studies with bullish conclusions over the past few months.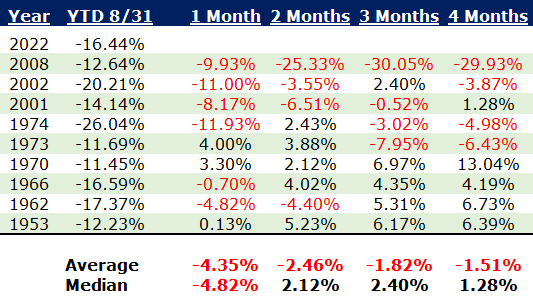 I think it is self-explanatory. When the stock market is down more than 10% through August 31st, September is down more than 4% which is certainly not what we have been enjoying. September and October are mixed when you look at both the average and median. Obviously, 2008 has a huge impact on the average returns two, three and four months out. While I don't want to exclude them because they actually occurred and were the most recent instance, we also need to take them with a small grain of salt and focus more on median returns. In that case, September has the big risk.
On Friday we bought EMB and more SOXL. We sold ECH.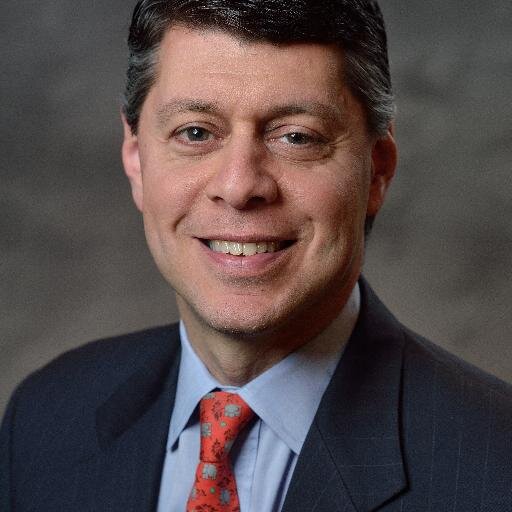 Author:
Paul Schatz, President, Heritage Capital