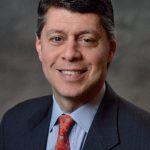 Paul Schatz, President, Heritage Capital
Dollar, 2-Year & 10-Year Bouncing – Buy Pullback in Stocks
When you strongly dislike both teams in the Super Bowl along with their coaches, you root hard for a great game regardless of who wins. I think everyone would agree it was a great game. Long gone are the years when the NFC would trounce the AFC by 20+ points every year. I am sure all the arm chair coaches are out in full force this morning complaining about time management by the Eagles and referees that wanted that the Chiefs to win. I don't buy either. It was a really well played game that could have gone either way, a comment I rarely make when it comes to the markets.
With football over there is that usual mid-winter void in America. However, pitchers and catches report this week. The PGA is in full swing and college basketball has its sprint to March Madness. I think sports fans will be okay.
The stock market ended the week on a slightly better note although the NASDAQ 100 and technology continued their pullbacks. Energy was the story on the bullish side. In a perfect world, stocks bounce for two to four days and then see the final pullback to the low for the month. Earnings season continues this week and we have February option expiration on Friday along with the Consumer Price Index on Tuesday. The CPI should bring out every pundit to offer their narrative. Interestingly, during the meat of the bear market, the stock market sold off sharply on CPI day. Over the past few months, the market has rallied.
Throughout 2022 I said that for the bear market to end we need to see the dollar, 2-Year and 10-Year put in meaningful peaks. I showed the 2-Year last week and that has been the most stubborn.
The dollar is below. No one can argue this instrument has peaked. While it should bounce higher than it has, I will repeat that all rallies are selling opps. When the dollar gets stretched to the upside, it should be another opportune time to buy gold.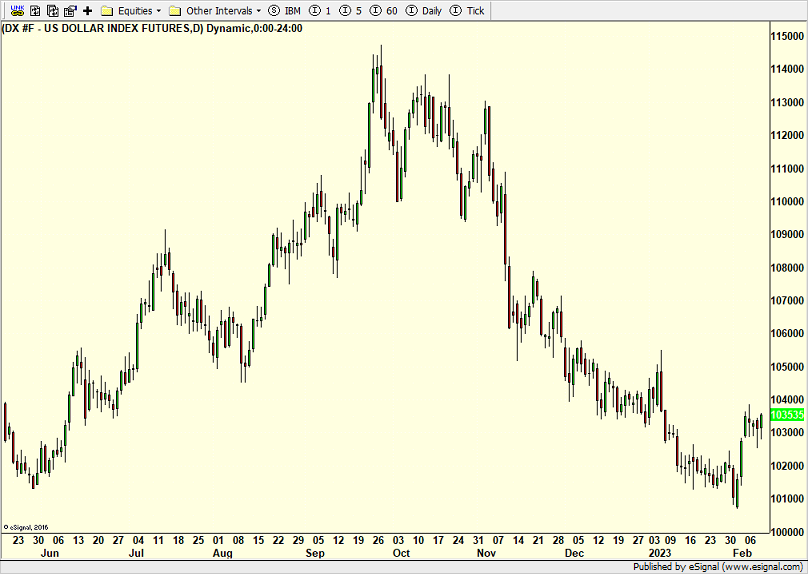 The 10-Year is below and that, too, has peaked. Like the dollar, it is now seeing a countertrend rally that should be a selling opportunity.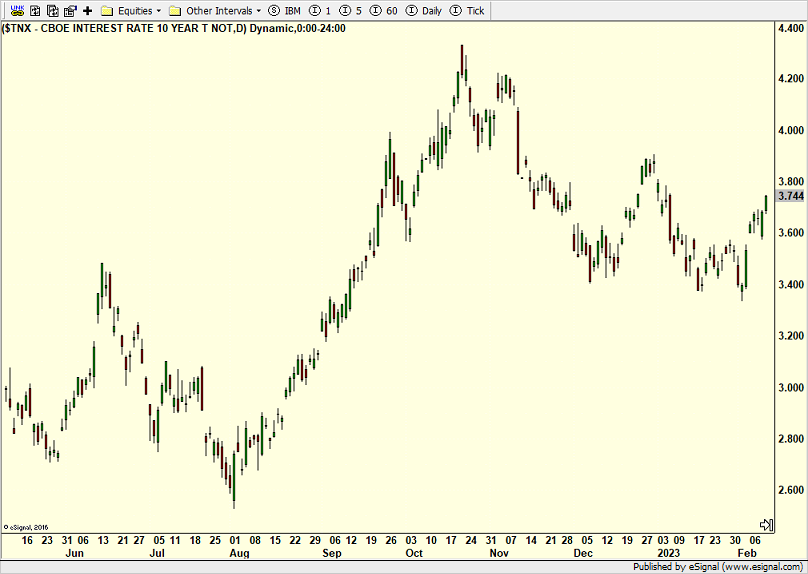 My view remains that the modest pullback in stocks since the February peak is just a little give back and not the end of the rally since October nor the start of something big. The S&P 500 should exceed that recent high and likely visit the significant high it made last August.
On Friday we sold SSO.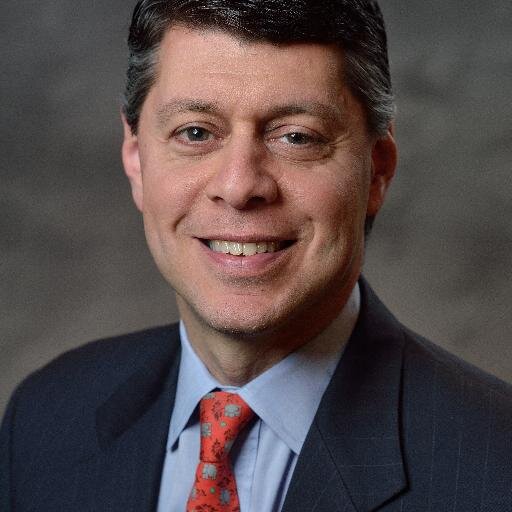 Author:
Paul Schatz, President, Heritage Capital