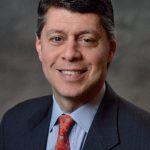 Paul Schatz, President, Heritage Capital
The Big Mistake Richard Made Managing His Retirement
We'll call him Richard so as to not embarrass him. Richard is a great guy, but sometimes he can't seem to get out of his own way. Richard's made many mistakes over the years, including:
Buying a timeshare

Investing in a family member's startup

Taking Social Security benefits before age 70

Failing to diversify his stock portfolio
But the biggest mistake in Richard's personal finance strategy was to utilize the services of a broker-dealer. B/Ds tend to focus more narrowly on facilitating purchases and sales of assets such as stocks. 
More importantly, B/Ds are not required to disclose potential conflicts of interest or make their clients aware of less expensive or more tax-efficient investment alternatives. They must only show that their recommendations are "suitable" for their clients. Note well: Suitable is not the same as optimal.
Richard did not have a retirement savings plan to protect him from destructive market fluctuations, excessive taxes, an improperly balanced portfolio, and other factors that impacted his overall stream of income during retirement.
Registered Investment Advisors
A Registered Investment Advisor (RIA) is a better alternative than a broker-dealer. The two are quite different. RIAs provide advice on a broader range of finance-related issues, including investments, retirement, taxation, and estate planning. Because they are fiduciaries, clients of RIAs can rest assured that their advisors always put their best interests first.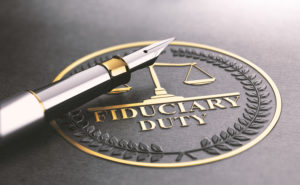 Suitability vs. Fiduciary Requirements
Both standards of conduct protect a client from excessive risk and foreseeable harm. But the suitability standard required of broker-dealers falls short of the protections afforded by an RIA's fiduciary requirements. In particular, B/Ds do not have to act in their clients' best interests. 
This doesn't mean a broker-dealer is free to act in a reckless or malevolent manner at the client's expense. They must meet three tests to show compliance with the suitability standard:
Reasonable basis for a recommendation

: A broker-dealer must be reasonably confident that an investment is suitable for some investors. The B/D must ensure that the investment is legitimate, understand how it operates, and know its risks and benefits. However, a B/D is not required to recommend the best investment for a client.

Advice must be customer-specific

: A broker-dealer must understand each client's profile, ranging from their age and wealth to their mindset and goals. But this knowledge needs only support a suitable, not optimal, recommendation.

Advice must have a quantitative basis

: A broker-dealer must assess whether a series of transactions, each suitable for a client, does not create excessive expenses for the client. In effect, it prevents B/Ds from churning a client's account, i.e., making frequent transactions to generate commissions.
Fiduciaries must also meet the suitability standard, but that is only their starting point. For example, suppose a client expresses interest in a variable annuity to a broker-dealer. The B/D may recommend a variable annuity suitable for a client because it offers certain features that match the client's objectives. 
That the variable annuity pays a hefty sales commission to B/D does not make it unsuitable because the investment is legitimate, meets some of the client's needs, and does not involve churning.
On the other hand, a RIA might reject the annuity because it does not serve the client's best interests. Specifically, the RIA's due diligence reveals another annuity with better performance, less risk, and lower fees. The RIA must select the better annuity in the interests of the client.
But going even further, the RIA must first understand why the client wants an annuity. The RIA should verify that the client understands the investment's risks and benefits, how it figures into the client's retirement plans, and whether this investment is the best type to meet the client's goals. It's entirely possible that another product would be a better fit for the client. 
In other words, an RIA must protect a client from investments not in that client's best interests. 
Richard Should Have Come to Us
Richard would have avoided many mistakes if he had been our client from the start. We would have pointed out the substantial risks involved in getting a timeshare or investing in a relative's startup. We'd have explained how postponing Social Security provides superior long-term benefits. 
Most of all, we'd have worked with Richard to develop a diversified investment portfolio appropriate to his circumstances and his ability to assume risks. The portfolio would take advantage of tax-efficient retirement accounts covering a broad range of assets allocated to achieve the desired risk/reward tradeoff. 
The investments we'd recommend would depend on Richard's best interests. And we would certainly not recommend investment products based on commissions. We've long believed that taking care of our clients' best interests also serves our best interests. We would never sacrifice our reputation for honesty, care, and attentiveness just to collect a fat commission.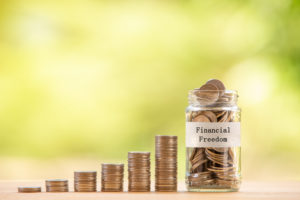 We Are an RIA Looking Out For Your Interests
At Heritage Capital you can "Invest for tomorrow. Live for Today. ™" We aim to provide you with objective advice based on your financial situation, so you make the best decision possible. So how does that work?
We offer concierge-style financial support to all your assets, not just those under our management. We'll review your retirement plan, offer advice and work with you so that you have peace of mind about your current or future retirement.
We're happy to offer a second opinion before you refinance, sell or buy a home, car, or potential income property. We can help you make the most of your charitable contributions to maximize the impact of your legacy on your family and the causes you care about most.
Because we have a consolidated view of all your assets, we can help you make the intelligent choice when making a financial decision. And, we're a fee-only fiduciary, so your best interests will always guide our decisions and advice.
If you'd like more information about how to switch investment advisors, please click here.
If you're thinking about working with a registered investment advisor in Connecticut, Heritage Capital offers a free, no strings attached conversation with a member of our professional team.  Click here to Start a Conversation.
Click here to download a copy of "How to Plan a Bulletproof Retirement During Turbulent Times".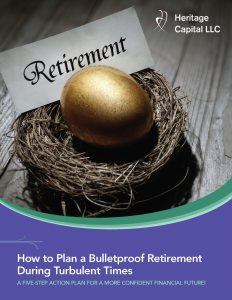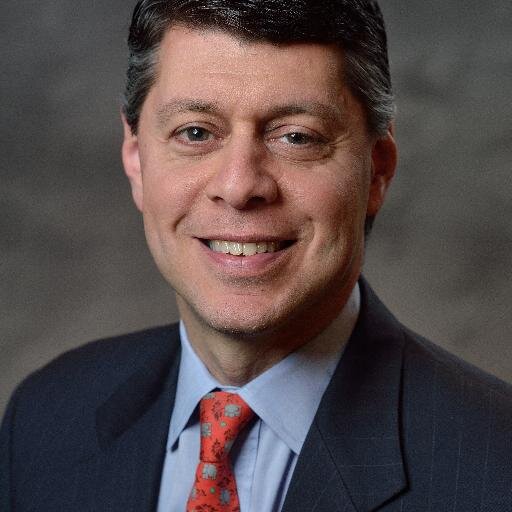 Author:
Paul Schatz, President, Heritage Capital